Beautiful Aurora Sancarlo About Collaborating With RevTag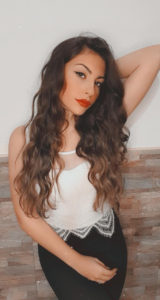 Beautiful Aurora Sancarlo @aurora.beauty__ about our collaboration:
Hi, I'm really glad to be working with you.
I actually started really very natural, people started to care about my content, and thank me for the beauty advice I shared! it wasn't hard, but pleasant!
Somehow it changes your lifestyle, of course for the better, my goal is to involve more and more people in my page! my greatest passion is also my main job, namely nailartist, I'm also a master!
The most exciting moment is to see more and more people involved and interested in me.
I choose brands to work with on the basis of their style, based on the quality of their products and on the basis of what they transmit!
I'm so glad I worked with you. You're kind.
Thank you for giving me this opportunity!
See you soon!?