Beautiful Aneta Tegova's @ategova Interview For RevTag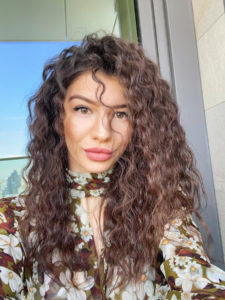 How did you get started as an Instagram influencer? –

I have been posting on Instagram way before it became famous to call someone "influencer" in social media. I just like what I do and I like sharing some of my daily activities in the social media and I think people find it interesting, inspiring or helpful

Was it hard for you to enter and find your space on Instagram as a brand new influencer? –

So many people are using Instagram especially during a pandemic and being at home all the time. Everyone one is looking for something in Instagram- sport, beauty, health, outfits etc. so it just happened naturally that people who are interested in a lifestyle similar to mine started following me.

Has becoming an influencer changed your lifestyle? How? –

Well, to be honest my life didn't change, I just started taking more photos which I was doing anyways

Do you have any big goals as an influencer for 2021? Can you tell us a bit more about that? –

My main goal for 2021 is university, health and happiness. Being influencer comes second because I like keeping my life in reality, not in the virtual world. So I don't have any big ideas, it will all just happen one thing at a time

What is your biggest passion and what kind of photos you love to share on Instagram? –

I have been passionate about workouts, fashion, skincare and dogs all my life, so everything I post is related to those parts of my life

What's been the most exciting moment you have experienced since becoming an influencer? –

The times at the moment are excluding big social events that the world is used to so nothing that fancy happed but one thing I can say I was excited about was a project that I was working on with an Aesthetic centre. So much fun, very nice experience for me that I shared with my followers

How do you choose the brands you cooperate with? –

So many brands want to use influencers as a method for advertising but I choose them if they are really good, if it's worth showing and if I tried and I'm satisfied with the products.

Are you happy with the collaboration with our agency RevTag? –

I am very satisfied with working with Revtag. They give the opportunity to work and collaborate with different things that I actually am interested in, which is important in order to keep doing what you like.

What would you wish to all Revtag followers? –

To all the followers of Revtag, I would wish them to be happy, to be healthy and to love more.

What advice do you have to people who are trying to gain followers on Instagram? –

I don't feel like I'm the right person to give advice but what I'm going and what it's very important for me is to post meaningful content, to engage the audience on a daily basis, to be honest when you share option in posts and last but not least to find the topics that are interesting to their followers and to themselves as well.