Santina's @vidaloca_santy Interview For Revtag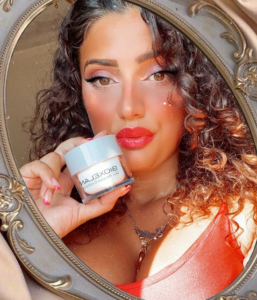 How did you get started as an Instagram influencer?
Creating my profile day by day.
Was it hard for you to enter and find your space on Instagram as a brand new influencer?
Has becoming an influencer changed your lifestyle? How?
Yes, a great satisfaction of life.
Do you have any big goals as an influencer for 2021? Can you tell us a bit more about that?
My goal is to grow both followers and satisfaction of my followers..
What is your biggest passion and what kind of photos you love to share on Instagram?
The photos I post speak of me and a general passion for collaborations.
What's been the most exciting moment you have experienced since becoming an influencer?
I am satisfied that my followers ask me every collaboration what it was.
How do you choose the brands you cooperate with?
I propose or contact the companies for collaborations.
Are you happy with the collaboration between vidaloca_santy and RevTagCorporate 3 Landing?
What would you wish to all Revtag followers?
I would like to say that I am happy because it is a truly wonderful company.
What advice do you have to people who are trying to gain followers on Instagram?
To take care of every little detail of what he wears and to always have many dreams.
[/vc_column_text][/vc_column][vc_column column_padding="no-extra-padding" column_padding_tablet="inherit" column_padding_phone="inherit" column_padding_position="all" background_color_opacity="1″ background_hover_color_opacity="1″ column_shadow="none" column_border_radius="none" column_link_target="_self" el_class="post_right___" gradient_direction="left_to_right" overlay_strength="0.3″ width="1/3″ tablet_width_inherit="default" tablet_text_alignment="default" phone_text_alignment="default" column_border_width="none" column_border_style="solid" bg_image_animation="none"][recent_posts style="default" columns="1″ category="all" order="DESC" orderby="date" posts_per_page="5″][/vc_column][/vc_row]