RevTag's Partnership With Beautiful Sevgi Ali @flashyblooms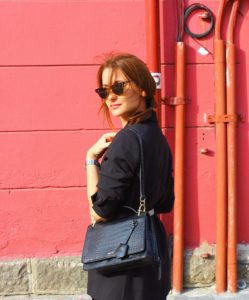 Q: How did you get started as an Instagram influencer?
A: Ever since I was a child, I dreamed about a career in fashion. I have always enjoyed doing things related to it. In 2015 I started a short training in Styling and Fashion photography and then a lot of people advised me to create a blog and to follow my dreams. After a while I decided to take this step and in August 2017 I created my blog…and started to post more on İnstagram.
Q: Was it hard for you to enter and find your space on Instagram as a brand new influencer?
A: I wouldn't say it was difficult … from the very beginning I had a clear idea of ​​what I wanted to do and everything happened in a completely natural way. Besides, I was lucky enough to meet the right people.. at the right time 🙂
Q: Has becoming an influencer changed your lifestyle? How?
A: Not quite, but on the one hand I feel that the dynamics of my daily life have changed slightly. Now I pay even more attention to details. I am communicating more with different people and I feel that I am becoming more confident and open to different things.
Q: Do you have any big goals as an influencer for 2021? Can you tell us a bit more about that?
A: Yes, of course I have. In general, I want to work with different brands and to be able to make long-term partnerships with them. Also i want to share more interesting and useful information with my followers and I aim to be more active in my Youtube channel… and to make more mini videos for Instagram.
Q: What is your biggest passion and what kind of photos you love to share on Instagram?
A: If I have to summarize i would say that İ am addicted to fashion, styling, books, good music, delicious food, travelling and smart people :))
Outfit posts are my favourite, also i love to take pictures of food, interior ideas, cosmetics, old buildings, random people from the street and to share my travel adventures.
Q: What's been the most exciting moment you have experienced since becoming an influencer?
A: Probably the first event I was invited to with my daughter … thanks to Revtag and Waterwipes.
And to be honest, I'm still excited about every single event, every single meeting with a brand and every single person I've met on Instagram.
Q: How do you choose the brands you cooperate with?
A: I try to choose brands that I trust, brands that we look in the same direction…the communication is pretty important as well. İ prefer brands that I can communicate with easily … and those that give me the creative freedom I need.
Q: Are you happy with the collaboration with our agency RevTag?
A: Yes, i feel lucky to have the chance to work with Revtag. This is the first agency that believes in me.
Q: What would you wish to all Revtag followers?
A: Believe in yourself and do not give up on your dreams, no matter how absurd they may seem to you!
Q: What advice do you have to people who are trying to gain followers on Instagram?
A: Do everything with love, do not try to look like others … show your individuality and your creative side. People notice when something is done with love, they notice our warmth and sincerity … And last but not least, be patient, good things take time!