Revtag's Interview With Lovely Sonida Guza @sonidaguza – Italian Influencer With Almost 22K Followers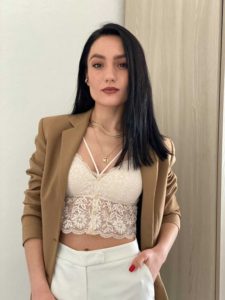 Q. How did you get started as an Instagram influencer?
A. I started as an influencer about 3 years ago all by chance, since I've always liked sharing my outfits.
Q. Was it hard for you to enter and find your space on Instagram as a brand new influencer?
A. No because this was not my goal.
Q. Has becoming an influencer changed your lifestyle? How?
A. It has changed because people always want to see what you do.
Q. Do you have any big goals as an influencer for 2021? Can you tell us a bit more about that?
A. This year I'm getting married and that's my goal 🙂
Q. What is your biggest passion and what kind of photos you love to share on Instagram?
A. Always travel around the world, I love sharing new outfits, new places I go to visit.
Q. What's been the most exciting moment you have experienced since becoming an influencer?
A. When I realized that people like what I share and want me to follow me they ask me so many questions they want to know more.
Q. How do you choose the brands you cooperate with?
A. I try to understand if the products they offer are the ones my followers are interested in.
Q. Are you happy with the collaboration with our agency RevTag?
A. I am very satisfied with revtag, the products are really good and worth collaborating with, and important for me to recommend great products to my followers.
Q. What would you wish to all Revtag followers?
A. A lot of happiness and success.
Q. What advice do you have to people who are trying to gain followers on Instagram?
A. Followers do not need to be bugged, you must always be lying down and always tell the truth.