Vanessa @anevgrung With Over 18K Followers For RevTag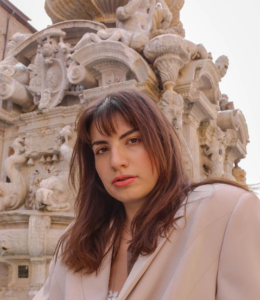 1.How did you get started as an Instagram influencer?
I started years ago, initially I just took outfit photos of myself wearing my own clothes at the time and I remember it was in winter, so I had a lot of choice! I then posted them on Instagram and from then on I started doing this every week until the first Collaborations came through. 
2. Was it hard for you to enter and find your space on Instagram as a brand new influencer?
When I started there weren't many influencers so it was kind of easier (not easy though!) to get noticed, but at the same time almost no one was making money out of it so the influencer marketing was not operative as it is now. 
3. Has becoming an influencer changed your lifestyle? How?
Yes definitely it changed my lifestyle and also my personal style as when I started I was like in my mid 20s and now I'm over 30 so it also helped me develop my style as a woman and my lifestyle changed because I spend a lot of time creating content, editing, engaging on all socials, but that's what I like about it. I remember when I started people were kind of making fun of influencers taking pictures of their food before eating but that's what is actually like changed about people lifestyle and my own, we think more of a scenario in your head before we take any pictures or creating content. Sometimes I walk down the street and I notice some vintage buildings and I think to myself or I say to my sister let's take photos here next time and I wasn't doing that before Instagram of course! 
4. Do you have any big goals as an influencer for 2021? Can you tell us a bit more about that?
My goals for 2021 would be to make a full time income from Instagram and social media, while doing what I like the most which is creating content so I hope I will be closer to my goal soon! 
5. What is your biggest passion and what kind of photos you love to share on Instagram?
 I love to combine photography and fashion which are some of my main passions and also vintage style and aesthetics. So my feed basically revolves around this. I take inspiration from old movies, old books, vintage style, Parisian Aesthetic so that's the mood that I want to give to my photos. 
6. What's been the most exciting moment you have experienced since becoming an influencer?
I don't have one in particular, but all the time that I collaborated and worked with amazing brands (and also famous brands at times!) but also every time that someone treated me well like when I was invited to restaurants or events. I really enjoyed that! 
7. How do you choose the brands you cooperate with?
 In the beginning I actually thought to collaborate with anyone, because that would help me get started somehow, but I think that's not the right way so right now that I'm a bit more established, I select the brands that I want to work with and sometimes I do reach out to the ones that are more similar to my style, but also that have a certain value to them (for example sustainability that's important right now for me) 
8. Are you happy with the collaboration with our agency RevTag?
I'm very happy to collaborate with RevTag agency as I really like their creative take on promoting influencers and brands! I read a lot of fashion magazines and I'm a fan of magazines so I really like their magazine style feed.
9. What would you wish to all Revtag followers?
Hope you guys are doing well during these crazy times and you always stay inspired x 
10. What advice do you have to people who are trying to gain followers on Instagram?
I've got so many advices on how to gain followers on Instagram that I also did a blogpost some while ago and you can check that on my website ​VanessaVenturi.com. I can say that one of the main thing is to build engagement which is also commenting on other peoples profiles and photos and replying back and build trust with your followers.