Our Collaboration With Beautiful Monica Mihova @xo.xo.monica – Interview For Revtag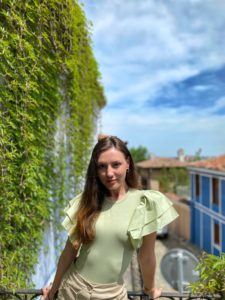 Q. How did you get started as an Instagram influencer?
A. Bonjour, fans of the agency RevTag!
I still can't learn to love the word "influencer". Sounds kind of wrong to me.
I started to look like an Instagram influencer when people actually started recognising themselves in what I share on my profile.
Q. Was it hard for you to enter and find your space on Instagram as a brand new influencer?
A. I would say that I am still on that path and going through these trials to establish myself as a responsible and preferred brand influencer.
Maybe the fact that I trust brands i like helps me present their concept in a compelling way.
Q. Has becoming an influencer changed your lifestyle? How?
A. No doubt! Everything interesting that I read, watch or learn from a friend I want to share immediately with my small circle of followers.
Every beautiful view must be photographed, for which I will thank myself in the years to come.
Q. Do you have any big goals as an influencer for 2021? Can you tell us a bit more about that?
A. Like any motivated person, I always want to improve in each of my hobbies. My dreams for 2021 are not directly related to my work as an influencer, but they would help developing it. I dream of traveling, writing for one of my favourite magazines, growing my blog and continuing to meet a lot of amazing people from my Instagram account. I believe that in the near future each of these things will become reality.
Q. What is your biggest passion and what kind of photos you love to share on Instagram?
A. My biggest passion is creating quality content. Content that informs and sparks up people's interest.
The shots I like to share with my audience are the ones that reflect me as a person, my understandings, interests and the beauty around me that I see in every detail.
Q. What's been the most exciting moment you have experienced since becoming an influencer?
A. When you do something with the attitude that it is good for you, everything around it is exciting. Perhaps, I am really happy for the opportunity to work with amazing people and brands, from whom I learned a lot about digital marketing.
That is my passion right now.
Q. How do you choose the brands you cooperate with?
A. As I told you, I strive to work with brands whose concept is close to my understanding. I love working with brands that I see potential in and I know I can help them. Advertising these days can have a very strong impact on consumers. That's why I chose to advertise only products whose idea I support.
Q. Are you happy with the collaboration with our agency RevTag?
A. More than happy. So far, RevTag has managed to connect me with some of my favourite brands and I hope that it will be the same for the future. Since They have contacted me means that they see the potential in my work. And who wouldn't want to get recognised for what they do.
Q. What would you wish to all Revtag followers?
A. I want to wish them to continue to believe in themselves. No excuses. I want them to know that the refusal and the word "no" in most cases means that they are one step closer to the desired "yes" they want to get.
Q. What advice do you have to people who are trying to gain followers on Instagram?
A. Stop trying. Just be yourself! Share your work, your passion and the dreams you want to achieve. Then in the eyes of your followers you will already be a real person whose process of growth they want to follow.