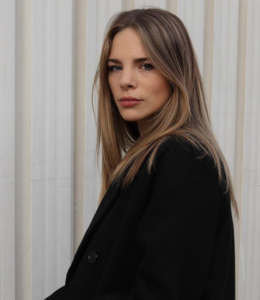 1.How did you get started as an Instagram influencer?
I kinda roll in it. I've started promoting skincare with natural ingredients and posted pictures of outfits I liked, that's how I created a niche and started connecting with accounts that looked like mine and then everything grew pretty quick
2. Was it hard for you to enter and find your space on Instagram as a brand new influencer?
Before I connected with accounts like mine it was pretty hard to get recognised but after gaining some Collabs and connect with other accounts everything went good really quick
3. Has becoming an influencer changed your lifestyle? How?
Definitely, I really have to plan shooting days and keep track of deadlines. I also have a fulltime job and some extra jobs as a freelancer so I'm committed to extreme time management. I'm also a workaholic so I could never work less, only more which challenges me a lot.
4. Do you have any big goals as an influencer for 2021? Can you tell us a bit more about that?
My goals are to get recognised for my work and time I put in brands and to create long partnerships with brands because of that. I also have had 2 travel collabs before so I'd really like to expand that too.
5. What is your biggest passion and what kind of photos you love to share on Instagram?
My biggest passion is my job, actually every job I do is with passion because I'd only do what I love. I try to show that on my Instagram too. I'd like to train myself into photography so i can create better pictures of my self for Instagram ?
6. What's been the most exciting moment you have experienced since becoming an influencer?
To travel to Paris and Barcelona because of press relationships there. That was so nice. But also meeting so many lovely people and have created new friendships all over the world. Knowing that when for example I'll visit Italy some time, there are at least 3-4 people I can meet up with there. That's such a wonderful thought.
7. How do you choose the brands you cooperate with?
If it's with skincare I only work with brands that have natural ingredients. For fashion, they have to have a lovely alternative black colour collection because I only wear black. I also clearly state this on my Instagram so luckily 80% of the time the right brands contact me for a collaboration.
8. Are you happy with the collaboration between Shauny Cuypers and RevTag?
Yes definitely. Everything went smoothly and the contact has been lovely too.
9. What would you wish to all Revtag followers?
To live a life that make them happy and chase goals. Hard work will always pay off ❤️
10. What advice do you have to people who are trying to gain followers on Instagram?
As stated above, hard work will always pay off ❤️ focus on creating a niche for yourself and then focus on that niche.